THE MILL OF DON JOSÉ ALCALÁ.
This building houses the Museo del Olivar y el Aceite de Baena. Until 1959 it was the mill of Don José Alcalá Santaella. Most of the mill machinery dates from the middle of the 19th century. During each olive harvest, a group of three millers worked this mill and grounded between 2,000 kg to 3,000 kg each day. The fruit came from olive groves in the Chitajillo and Vela districts.
Nowadays, this building has more than 800 m2 of exhibition space divided between its two floors.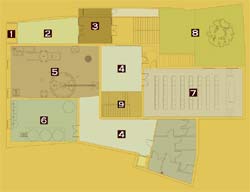 DOWN FLOOR
ENTRANCE
HALL
RECEPTION AREA
HISTORY
Click the legend for view the pictures
FIRST FLOOR









LIGHT AND HEAT
COSMETICS
FOOD AND HEALTH
THE OLIVE CALENDAR
ARTISANS AND TRADES
THE OLIVE OIL WORKSHOP
TEMPORARY EXHIBITION HALL
OLIVE OIL TASTING SALON
LIBRARY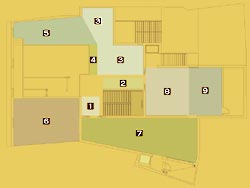 Click the legend for view the pictures
LEGEND:
LEGEND:
Photography: Carmelo Ruiz
---
THE OLIVE OIL MILL
THE OLIVE OIL STORE
MULTI-PURPOSE THEATRE AND MEETING ROOM
COURT YARD
STAIRS